Diskrepant
Diskrepant is the solo project of Per Åhlund from Stockholm, Sweden. He's involved in several experimental music-, and sound art-projects.
With Diskrepant he explores the borders between sound and music, stillness and hysteria, darkness and light. He creates compositions on
the verge of dissolving and focuses on atmosphere and texture rather than tonality and rhythm.
Diskrepant has released three full length albums containing abstract, dark soundscapes.
The split 'Folie à Deux' and the albums '33-12' and 'Into Sleep' was released by Swedish record label Fin De Siecle Media. In 2009 'Ex Machina Libertas' was released by English record label Fractured Spaces Records.
Live he use contact microphones, vibrators, gadgets and effecs to form gloomy soundscapes and noisy, abstract sound environments.

He performs live on a regular basis and has the last few years toured Europe with acts like Amber Asylum, ?Alos, b°tong and Origami Galaktika.
b°tong
Chris Sigdell is an experimental electronic musician. He developed a soft spot for early industrial textures and pioneering ambient soundscapes while cutting his teeth in cult industrial band NID (1995-2005).

A mysterious and shadowy figure he has ended up assembling sounds of such chilling creepiness that it makes Aphex Twin's Selected Ambient Works Vol. 2 sound like a collection of sugar-coated lullabies. The sound of b°tong feels a lot like an agonizingly slow crawl through a dark tunnel where the dim light at the other end never gets closer.
b°tong builds an interesting body of work that moves in various directions at the same time.
From dealings with ambient and isolationism on one hand and experimental music, ranging from the soft microsound end to the more engaging noise end, in a clever combination of ideas…
Since 2005 b°tong has played over 100 concerts in Europe and North America. He has appeared at festivals such as Ausklang, Sinus Series, Shift, Lab 30, and released 10 albums of music on
labels like: Noecho Records (UK) and
Gears Of Sand (USA).
Tamagawa
Bertrand Gaude lives in St. Etienne. He used to play guitar in various local grunge-groups before getting hooked on drone-music.
Tamagawa's sound is hypnotic, reverberating with faraway melodies. His music is emotional, but also futuristic. In his mind the world doesn't exist. It is gone, along with humanity. He melds layers of clean and distorted guitars with synthesizer drones and guitar feedback and loops.
He has appeared on tours and at festivals along with artists such as Troum, Nadja and Aidan Baker.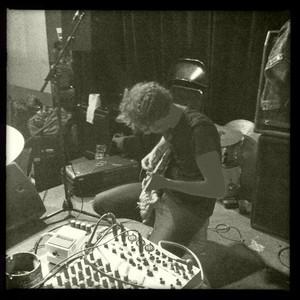 Bertrand is the owner of Mayo Records. His most recent release is "L'Arbre Aux Fées" 3×3" CD (Basse Fréquences).
www.myspace.com/tamagaywa